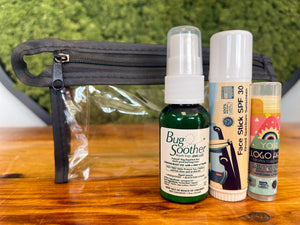 Spend time enjoying the outdoors without having to worry about pesky bugs or sunburns! This curated Outdoor Bundle includes our co-branded non-toxic Bug Soother insect repellent, SPF30 Sun Screen Stick (0.56 oz. Jumbo Tube), and your choice of SPF 15 Lip Balm. Create the perfect outdoor kit for your customers.
It's a great marketing tool for camps, races, golf events, concerts, outdoor equipment services, or any summertime event. Each bundle comes housed in a clear plastic zipper pouch.
Minimum order requirement of 250
1 oz. green plastic co-branded bottle | Convenient small size
1 (0.56 oz.) Jumbo Tube of SPF30 Sunscreen Stick
1 (0.15 oz.) SPF lip balm - your choice of flavor!
Not for resale | For promotional use only
*For special requests, add-ons, or questions, please email us at privatelabel@clearlyorganiclips.com
Ingredients:

BUG SOOTHER:

Active Ingredients: Lemongrass Oil 0.8%

Inert Ingredients: Water, Vanillin, Glycerin, Castor Oil, Soya Lecithin, Vitamin E 99.2%

SPF 30 SUNSCREEN STICK:

Active Ingredients: Octinoxate (7.5%), Octisalate (5%), Oxybenzone (4%), Avobenzone (1%)

Main Ingredients: *Aloe Barbadensis (Aloe Vera) Leaf Oil, *Cera Flava (Beeswax), *Calendula Officinalis (Calendula) Flower Extract, *Cocos Nucifera (Coconut) Oil, *Helianthus Annuus (Sunflower) Seed Oil, *Rosmarinus Officinalis (Rosemary) Leaf Extract, *Theobroma Cacao (Cocoa) Seed Butter, Mixed Tocopherols (Vitamin E). *Organic Ingredients

Dimensions:

4" x 6" plastic bag

Product Sizes:
1 oz. plastic bottle, 0.56 oz. jumbo tube and 0.15 oz. tube
Other:
Cruelty Free, Manufactured in the USA
Additional Info:


Set Up Fee: $50, $15 reorders 

Lead Time: 3-4 weeks

Manufacturing:

Manufactured in the U.S.A. with globally sourced ingredients. Eco Lips offsets its manufacturing with 100% renewable energy and is a B Corporation.